Get Started with Website Starter Theme and Content Slices
Website Starter is a website template backed by prismic.io CMS. It allows you to create your website pages rapidly by combining Content Slices.
If you haven't already, create your own website here, it only takes a few seconds. Your website will consist of two main parts:
A Writing Room where you create, edit and publish your pages and blog posts content.
A Website that displays your content publicly hosted at your-account-name.prismicwebsite.me this way you can enjoy the result of your work, right away!
Write, Preview, Write, Preview and Publish!
If you're already logged in the Writing Room, you will notice the pencil icon in your website pages. This link brings you directly to the related document to edit in the Writing Room. Obviously it is only displayed to you and users who have your permision for editing your content.
Anytime you have done changes in the Writing Room, you can directly preview these in your website without actually publishing them. This makes a nifty productive cycle for working with content: write, preview, write, preview and when you're ready, publish with full confidence!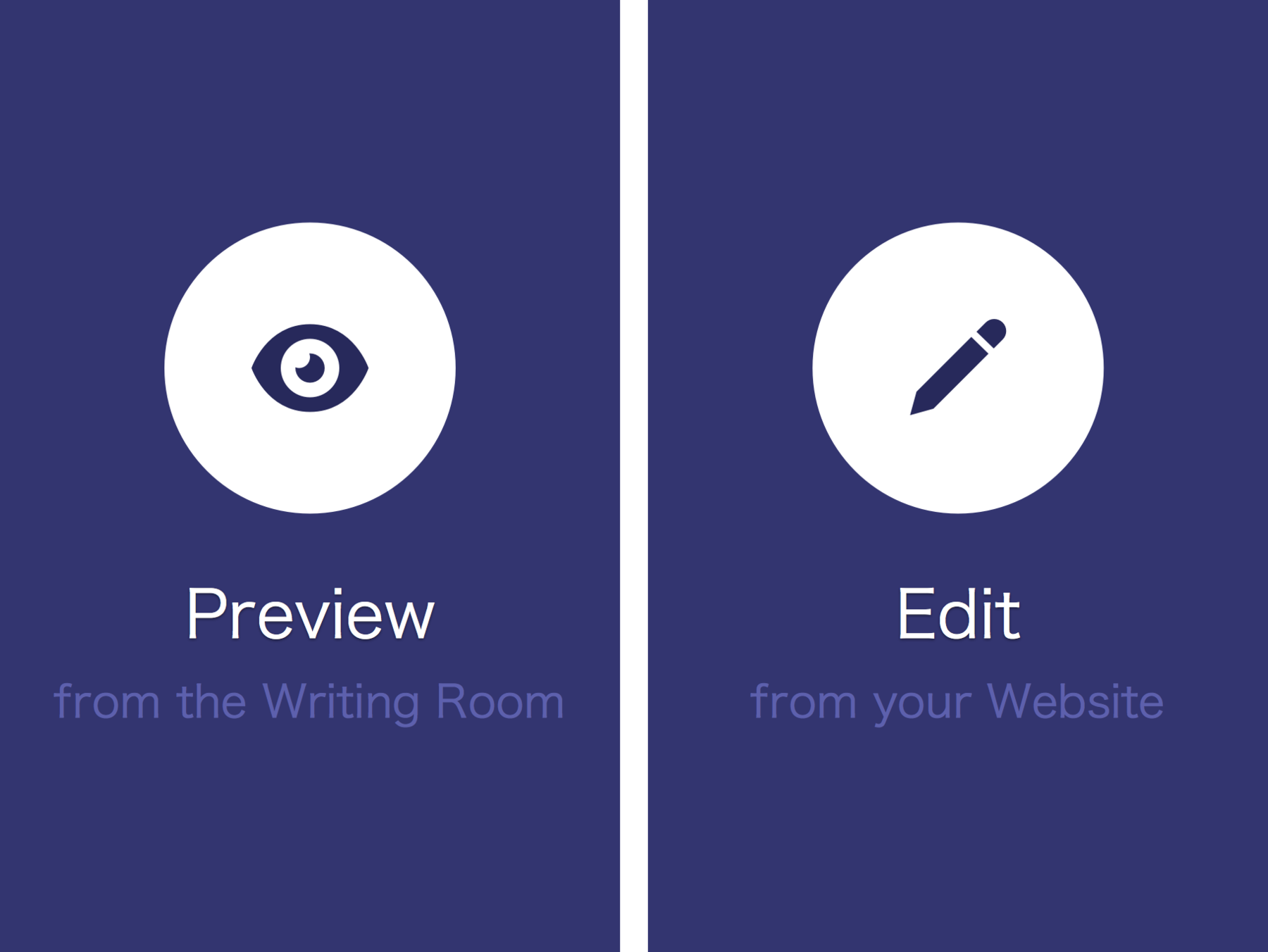 Combine Content Slices, Build Pages!
A key feature for building pages rapidly with Website Starter is Content Slices. A Content Slice represents a part of your page in the Writing Room.
So if you go to your homepage and click on the handy pencil, you will be directed to the corresponding content document in the Writing Room.
In the "Content" tab, you'll notice the different Content Slices that constitute your page: slides, featured items, etc.
By default, the different slices are displayed in the minimized "preview" mode. This allows you to go through an overview of your page's content.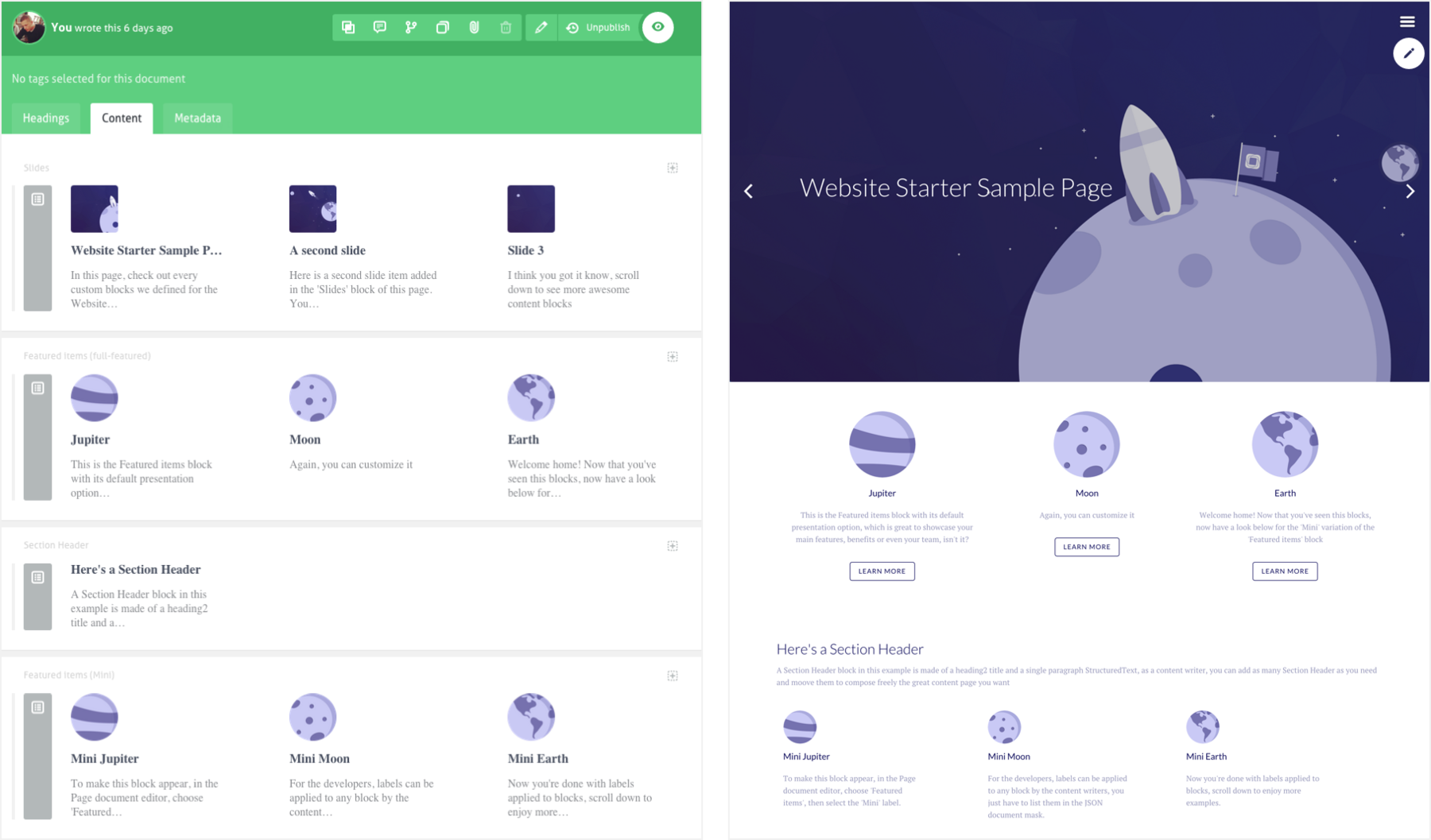 editor for the sample page in the Writing Room.
Well, time for action! Let's do some changes in the first "Slides" Content Slice, maybe modify its title? Simply click on the pencil icon to create a new draft of this document, then click on the "Slides" slice to expand it, you should now be able to edit the title of the slide.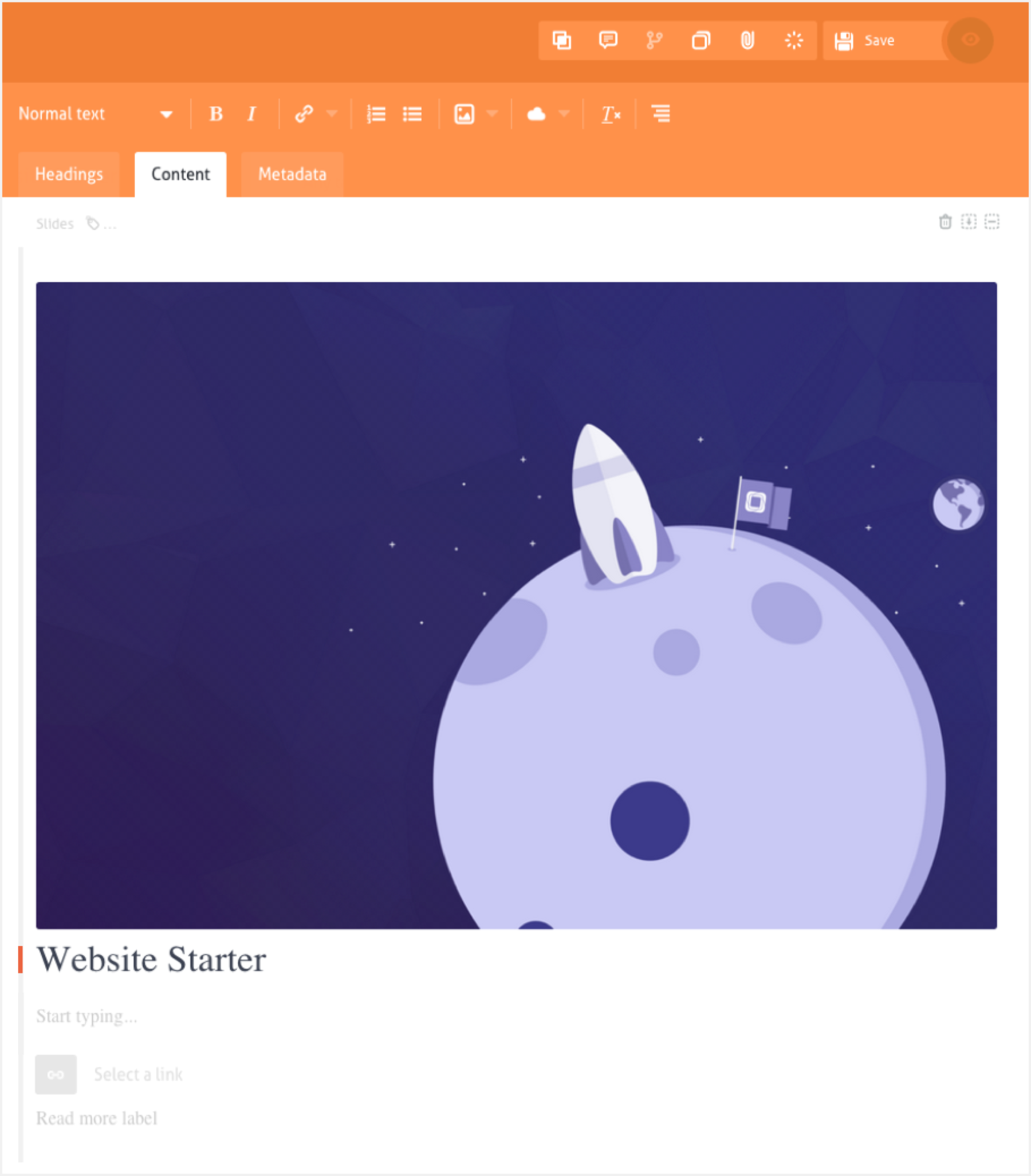 Save and preview to see the impact on the website. From here, go back to the Writing Room to add another slide!

Choose among Design Variations with Labels
Every Content Slice has labels, you can pick a label to get a different variation of the slice's design in your website. Below is an example of a 'Featured items' Content Slice, with the label set to "Full featured" and a preview of the result into the website.

A 'Featured items' slice with the "Full featured" label
A Spectrum of Design Possibilities
You get it by now, the combination of a selection of Content Slices together with their labels give a nice spectrum of choices to fill fluently your website's layout! Have a look at our sample page, we've added one in your website, play with its slices, reorder them and experiment with their labels. You're all set for creating your own styled pages!
Pages, Child-Pages and Navigation Menu
It should be pretty straighforward but while we're on it, every page can define its child pages in the "Metadata" tabs. Your website's menu will show the website map starting with your homepage.
Personnalizing Colors & Fonts: Meet Theme Settings!
A Website Starter also includes a "Theme Settings" document to personalize the overall look of the layout. You can add your touch on colors, fonts, overlays and some Content Slices default properties. With all these options, it is surprisingly easy to create a unique look for your pages and blog.
We'd Love to See your Work, Keep in Touch!
We can't wait to see your websites created with the Website Starter. Also we will keep adding new slices and options into it, so keep tuned!